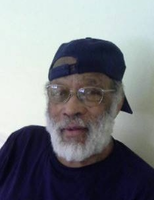 Henry Fladger
Henry Fladger, 83, of Hammonton, New Jersey, formerly of Summerville, SC, was born on July 10, 1935. Henry was the son of the late Henry Fladger, Sr., and the late Louise Johnson Howard. He passed away on Thursday, February 28, 2019 at AtlantiCare Regional Medical Center, Mainland Division.
Henry attended the public schools of Dorchester County, graduating from Alston High School, Summerville, SC.
Henry, a self employed Construction Worker, lived in the South Jersey area for many years.
Henry was united in Holy Matrimony to the lovely Edna Boyce Fladger. She preceded him in death on January 9, 2010.
In addition to his parents, Henry was also preceded in death by four of his siblings, Mary Jane Bailey, Alvin Fladger, Clifford Boone and Donald Howard.
Henry is survived by: five daughters, Cheryl Graham (Rev. Isaac) of Manhattan, NY, Judy Edelen of Groveland, FL, Rose Bell (Steven) of Jamaica Queens, NY, Ednalynn Hamilton (Mark) of Fresno, CA and Delinda Fladger Hewitt (Andy) of Sanford, NC; three sons, Darryl Fladger (Angela) of New Egypt, NJ, Eddie Fladger (Brenda) of Tobyhanna, PA and Albert Fladger of Fresno, CA; thirty grandchildren and many great grandchildren; four sisters, Janice Thomas of Jacksonville, FL, Barbara Mathis and Gale Robinson both of Smyrna, GA and Linda Henryhand (Rev. WC) of Kingstree, SC; five brothers, Milton Fladger (Dorothy) and John Howard (Susan) both of Summerville, SC, Randy Howard (Brenda) of Goose Creek, SC, Jack Howard (Patricia) and Weldon Howard (Stephenie) both of Summerville, SC; along with a host of nieces, nephews, cousins and friends.
Funeral Services will be held Thursday, March 7, 2019, 11:00am at the Carnesale Funeral Home, 202 S. Third St., Hammonton where a viewing will be held from 10:00am until 11:00am. Burial will follow in Greenmount Cemetery, Hammonton.