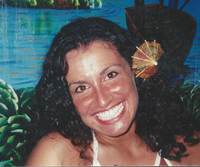 Debra Fabrizio
Debbie Fabrizio (Angelastro), 41 of Vineland passed away peacefully on Thursday, February 21, 2019, at home with her loving husband by her side. Born in Camden, NJ Debbie was raised in Hammonton, and graduated from Hammonton High School.
Debbie was a fun loving, beautiful individual with a smile that could light up a room.Her positive attitude inspired us to fight with her through this journey. Debbie always knew how to brighten the mood with her vibrant personality.
Debbie worked at Air Vent Duct Cleaning in Hammonton for many years for the Bray family, Tim, Bill, Cathy Kalick and Terry. Thank you for the constant support and love. Debbie truly appreciated everything that you did for her.
She is survived by her husband, best friend and soulmate Stephen D. Fabrizio. Her parents Frank and Anita Angelastro, brother John Angelastro, sister in law Christina, nephew Francesco, niece Gabriella and uncle Pete Pagano, also survived by mother in law Vennie Fabrizio,, and three sisters in law, Theresa Fabrizio, Andrea Fabrizio, and Stephanie Fabrizio, and nephew Willie and niece Olivia.
A visitation will be held on Thursday, February 28, 2019 from 10:00 AM - 12:30 PM at St. Mary of Mt. Carmel Parish Church of St. Joseph's, 226 French Street in Hammonton, where a Mass of Christian Burial will be celebrated at 12:30 PM. In lieu of flowers donations may be made to the Hammonton Cancer Foundation, P.O. Box 1066, Hammonton, NJ 08037. Arrangements by the Carnesale Funeral Home in Hammonton, www.carnesalefuneralhome.com.