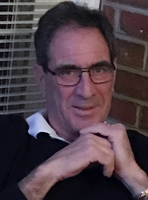 Bob Comunale
Robert M. Comunale, Sr, "Bob", 67, of Folsom passed away on Thursday, February 21, 2019 surrounded by his loving family in Thomas Jefferson University Hospital after a brief illness. Born in Hammonton he was a lifelong area resident. Bob was sales director for AT & T and for The Wireless Experience in Manahawkin. He was a former coach for the Hammonton Little League and the Hammonton Hawks Football Team. He was a 50 year member of the Order Sons of Italy in America Giuseppe Garibaldi Lodge 1658 of Hammonton. Bob was an avid golfer and poker player. He was a wonderful family man, he would go out of his way to do things for his family and friends. He enjoyed cooking, especially making meatballs and gravy. Bob was a generous man, he was loved by all, especially by his family, friends and those who he worked with in his professional career.
He is survived by his wife, Joyce Comunale (nee Siscone), his children, Robert M. Comunale, Jr. and his wife Lynne; Michael R. Comunale and his wife Jessica all of Hammonton, Jeanne Mahoney and her husband James of New Smyrna Beach, FL; his brother, Bruce Comunale (Beth); his sister Toni Brown (Bob), his brother in law Anthony Siscone (Margie) all of Hammonton; his four grandchildren, Chloe, Lucas, Jack and Charlie and many cousins, nieces, nephews and friends.
Funeral Services will be held Wednesday, February 27, 2019, 11:00am at the Carnesale Funeral Home, 202 S. Third St., Hammonton. Entombment will follow in Greenmount Cemetery, Hammonton. Viewings will be held, Tuesday February 26, 2019, 6:00pm to 9:00pm and again on Wednesday 10:00 am - 11:00 am at the Carnesale Funeral Home. In lieu of flowers memorial donations may be made to the Hammonton Little League, P.O. Box 1025 Hammonton, NJ or to the Hammonton Hawks, P. O. Box 782 Hammonton, NJ 08037.