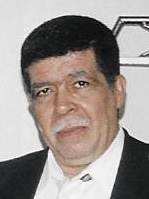 Jose L. Santiago
Jose L. Santiago, 72, of Atlantic City passed away on Monday, February 4, 2019. Born in Ponce, Puerto Rico he lived for many years in the Wharton Park area of Mullica Township and also in Atlantic City. Before retiring he worked as a supervisor of construction for The City of Atlantic City. Jose was a New York Mets and Giants fan, and he enjoyed watching the History Channel.
He was predeceased by his parents, Jose and Carmen Santiago and his companion Gina.
He is survived by his sister Maria Santiago, one brother William Santiago, two sons William Santiago and Robert Santiago, his nephews Anthony Martinez, Jose Miguel Santiago, Victor William Santiago, his nieces Shirley Monagas - Santiago "Curly", and Elsa Marie Santiago, his great niece Melissa Martinez, two great nephews Anthony Martinez Jr. , and Jose Antonio Matos Jr., his cousins Elias Rosado, Rosa Velasquez, Juana Hood and Carmen Munoz, his longtime friend Barbara and many cousins.
A viewing will be held on Thursday, February 7, 2019 from 7:00 PM - 9:00 PM and Friday, February 8, 2019 from 10:00 AM - 11:00 AM at the Carnesale Funeral Home, 202 S. Third Street in Hammonton, where funeral services will take place on Friday at 11:00 AM. Burial will follow at Atlantic County Veterans Cemetery, 109 Route 50, Estell Manor, NJ