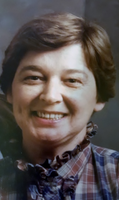 Elizabeth Jean Hartnett
Elizabeth (Bette) Hartnett, (nee Parra) of Lewes Delaware, died on November 16, 2018. Bette was 86 years old.
Born in Wyoming PA, Bette briefly attended Wilkes College, where she met her husband, Dave. Bette and Dave and their family lived many places, from Alaska to Florida, and even overseas in Belgium. They settled in Medford NJ in 1970. Bette and Dave retired to Lewes DE in 1998.
Bette was a homemaker for most of her married life. After the children were grown, Miss Bette worked at the Lenape Kiddie Kollege nursery school in Medford NJ.
Bette was active in the Boy Scouts of America when her sons were young. She was active in the Medford Historical Society, working on the publishing of their cookbook and planning and participating in the very first Apple Festival. She attended St. Mary of the Lakes Catholic Church.
Bette is pre-deceased by Dave, her husband of 63 years. She is survived by her sister Barbara (Adolf Blauhut), her brother Frank (Maria) and her children: Deborah (Lou Ruzicka), David (Barbara), Thomas (Patrice), Mark (Christine), and Christopher (Gail) as well as 18 grandchildren and 11 great-grandchildren.
Those who wish to remember Bette with her family may do so on Monday, January 21, 2019 at St. Mary of the Lakes Catholic Church, 40 Jackson Road, Medford NJ. Visitation will be 10 a.m. to 11 a.m. at the church. A Mass of Christian Burial will be at 11 a.m. followed by burial at Odd Fellows Cemetery in Medford Village.
Donations in Bette's name, in lieu of flowers, may be sent to: The Medford Historical Society, PO Box 362, Medford, NJ 08055.