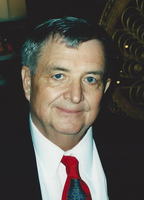 Anthony J. Butterhof
Anthony J. Butterhof, 81, of Egg Harbor City, died suddenly on September 26, 2019, of acute myeloid leukemia. He was born in Mullica Township to Anthony "Kelly" and Anna Butterhof. He grew up on the Butterhof Shady Brook Farm, attended St. Nicholas Elementary School, and graduated from Egg Harbor City High School.
His love of diverse hobbies began as a child. He was active in many 4H clubs and was honored as the 4H Atlantic County and South Jersey Tractor Driving Champion in 1953 and 1954 and was awarded membership into the NJ One Hundred Bushel Corn Club in 1953, for crop management. He was an expert pinochle player, built and launched model rockets, earned his Ham Radio license, and was known as K2JOX, and N2NJ.
He attended college at Trenton State where he played soccer. He embarked on a cross country trip, worked for a sheep farmer in Montana, and returned to New Jersey via a scooter. He met and married his wife, Virginia (Matro) in 1962. They settled in Mullica Township, and he completed school at Glassboro State College, earning his B.A. and M.A. He built their home on Hamburg Avenue, where they raised their three daughters.
Tony taught science and math at Duberson School in Mays Landing, and then math, chemistry, and computers at Mainland Regional High School. He briefly worked as a casino dealer at Caesars and as a boxperson at Playboy Casino. He returned to teaching at Sterling High School until his retirement in 1996.
He worked side jobs throughout his life such as repairing radios and tv's at home or for Birch's Communications, running high school football films to be developed overnight, and was recognized for 20 years of outstanding service as a soccer referee for the South Jersey Soccer Officials Association.
He served in the NJ National Guard. He was named Civil Defense Director for Mullica Township and was a Board of Education member for Mullica Township Schools for fifteen years. He was President of the Atlantic County School Boards Association from 1987-1989.
Tony was known to have a love of history, could fix anything, saved everything, was messy, laughed loudly, and frustrated many with his quirky sense of humor and free spirit. He loved old movies and favorites were Dr. Zhivago, The Sting, and the Police Academy series. He enjoyed swimming, wine making, traveling throughout the country, Christmas tree farming, plant propagation, and restored a vintage Ford truck and an army Jeep. He pursued his aeronautical passion by earning a pilot's license and fulfilled his childhood dream of building and flying his own experimental aircraft.
In 1994, Tony and Virginia moved to Westgate Farms in Wilmington, Delaware, where he continued many hobbies including building another experimental aircraft, hanging with his fellow pilots at the Alloway airstrip, assembling a large model train display in his basement, taking piano lessons, beekeeping, and continued travels throughout the United States and Europe. He won the 2010 New Jersey Airport Challenge by flying to the most airports, including being photographed at the Eagles Nest Airport port-a-potty as proof of his achievement. He rankled many air traffic controllers by landing his experimental plane at Philadelphia International.
He broadened his education by earning an Aeronautical Science Technology degree at Delaware Tech, where he was a member of Phi Theta Kappa scholastic society and lauded as the Outstanding Aeronautical Science graduate in 1997. He attended a multitude of courses at University of Delaware, being recognized for Outstanding Achievement in Mathematics in 2000, and earning a B.S. in civil engineering in 2012.
He held many memberships and was active in a variety of clubs throughout his life such as SCARA, AARL National Amateur Radio Association: EAA South Jersey Chapter 216: Egg Harbor City Historical Society; Improved Order of Redmen, Kickapoo Tribe 51; NJEA-NJREA; and would gather with neighborhood friends at "the rock" in Westgate Farms.
His greatest pride was raising his daughters and harassing his son-in-laws: Barbara and Thomas Rheault, Virginia and Justin Charpentier; and Elaine and George Frick. He loved nothing more than time scallywaggin in 609 and 302, traveling, and playing Uno and games with his six grandchildren: Allison (Joe) Vargovic, Emily and Tom Rheault, and Zachary, Tyler and Abigail Charpentier.
He is survived by his wife of 57 years, Virginia; his daughters: siblings: Anna (Bud) Walker, Rose Rubba, Catherine (Dave) Cordner, Fran (partner Richard) Kessler, Claire Stines, Albert (Donna) Butterhof, Robert(Maryann) Butterhof; his brother-in-law, Thomas (Deborah) Matro; and numerous nieces and nephews; Butterhof and Roesch family cousins; and dear friends through his many life activities.
A viewing will be held at the Carnesale Funeral Home in Hammonton, New Jersey, on Sunday, September 29, 2019 from 4:00 PM - 6:00 PM. Friends may call on Monday, September 30, 2019, at 10 AM at St. Nicholas Church of Our Lady of Perpetual Help Parish in Egg Harbor City, followed by a funeral mass at 11 AM. Burial will follow at the Egg Harbor City Cemetery. "Everything's normal."