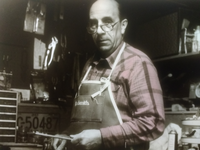 Lewis C Farsetta
Lewis Charles Farsetta, formerly of Hammonton , New Jersey, passed away August 6, 2019 in Charlottesville, Virginia due to complications from Alzheimer's disease. He was a quiet man of high standards, strong convictions and a withering stare (often delivered with one eyebrow raised high) that could stop any teenager in her tracks.
"Chubby" was born during the Great Depression to Italian immigrant parents who had come separately to America to escape the poverty of their native Calabria region. Lew graduated from Pleasantville High School, whose yearbook remembers his as "the smiling milkman." He went on to graduate from Drexel University with a BS in Business, and from Temple University Law School. In between his two degrees, he served in the U.S. Army for three years in the 1950's. He studied German at military language school in Monterey, and then served in Berlin, East Germany, conducting covert surveillance. He enjoyed reminiscing about this exciting part of his life to his family many years later, when he felt he was able to talk about it.
Lew eventually settled down to practice as an attorney for Bleakley, Stockwell and Zinc in 1961. Fortunately for him, his office was located directly above the Hammonton office of First Federal Savings and Loan. There he met the beautiful Janet Fraser in 1963, and they married three years later. Lew practiced civil law in Hammonton for many years while Janet raised their daughters, Mary and Diane. Lew also served on the board of Kessler Memorial Hospital, Hammonton Town planning board, the Hammonton Rotary Club, and the Downtown Hammonton Revitalization Committee. He enjoyed helping his friends and neighbors, often refusing to bill for his services and accepting produce in lieu of payment. This led to occasional abundances of tomatoes and blueberries, which were a treat despite the work it made for Janet to preserve them, with help from the kids.
Lew was a devoted son who visited his mother almost every day, until losing her to Alzheimer's. He retired from his law practice a few months before losing Janet to cancer in 2000. He kept busy with his favorite hobbies of golf, woodworking and painting until he moved to Virginia to be closer to his grandchildren. He will be sorely missed by his daughters Mary Farsetta and Diane Farsetta (Eric Piotrowski), grandchildren Darren and Katie Klein, and many cousins. The family will be forever grateful for the wonderful care Lew received from the staff at Rosewood Village in Charlottesville and to Dr. Marisa Christensen. A Mass of Christian Burial will be celebrated 11:00 am, Saturday, August 10, 2019 in St. Mary of Mt. Carmel Parish, Church of St. Joseph's 226 French St., Hammonton. Burial will follow in Holy Sepulchre Cemetery. In lieu of flowers, his daughters suggest a donation to the Alzheimer's Association.