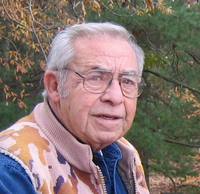 Gayton J. Capelli
Gayton J. Capelli, 82, of the Nesco section of Mullica Township died at home on June 22, 2019. He was born in Hammonton on August 14, 1936 to the late John D. and Marie (Grasso) Capelli. After graduating
from Hammonton High School in 1954, he worked primarily as an HVAC mechanic with Steamfitters Local 420 until his retirement in 1995. He also spent many summers working his small blueberry farm in Nesco.
His claim to fame was as catcher on the Hammonton All Stars team that won the Little League World Series in 1949. His membership in that fraternity was an important part of his life. He enjoyed hunting and fishing and was an expert clam shucker.
He was predeceased by his wife Ramona (Alessandrini) in 2017 and his parents. He is survived by his children, David of Nesco, Janice Eggie and son-in-law Jake Eggie of Marmora, Chip of Provincetown, MA and granddaughters Olivia Eggie and Angela Eggie of Marmora. Also surviving is his loving sister, Marion Condo (Ralph) of Waterford along with a variety of nieces and nephews.
Following cremation, a visitation will be held on Wednesday, June 26, 2019 from 6:00 PM - 8:00 PM at the Carnesale Funeral Home, 202 S. Third Street in Hammonton, where funeral services will take place at 8:00 PM.
In lieu of flowers, the family asks that donations be made to Mona's Kids, a nonprofit 501 (c)(3) charity created in his wife's memory to assist families with children who have extraordinary uninsured medical expenses. Please donate at MonasKids.org or by mail to Mona's Kids, PO Box 699, Provincetown, MA 02657. www.carnesalefuneralhome.com