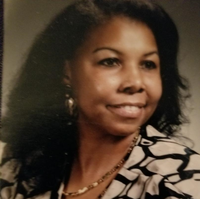 Sarah Elizabeth Jackson
Sarah Elizabeth Joyner was born in Philadelphia, Pennsylvania on August 18, 1945, from the union of Sarah Elizabeth and Edward Elijah Joyner. Sarah was 6th child of seven children. She briefly lived in Plymouth, NC and at the age of 7, returned to Philadelphia where her education began in Archdiocese of Philadelphia Schools. In 1958 at the age of 12, she moved to Newtonville, NJ where her education continued in the public school system, where she attended and graduated from Dr. J.P. Cleary Middle School and Vineland Senior High School.
Sarah met Eddie Jackson and married him in 1966. Steven Edward Jackson and Anthony Maurice Jackson her two sons, were born from this union, and they were the love of her life.
Sarah had various positions at many companies throughout her work career. Most notably was her employment at Whitehall Laboratories in Hammonton. She began working there in 1969 and remained there for 27 years until the plant closed in1996. Through those years at Whitehall Laboratories, she decided to continue her education and obtained her Bachelor Degree from Rowan University in 1998. In 2001, she started working at Inspira Health Network until she retired in March of 2017. She was also a certified CPR and First Aid instructor for the American Heart Association, and was certified to teach non-violent Crisis Intervention through the Crisis Intervention Institute. She also received her national certification as a Psychiatric Technician 4 from the American Association of American Technicians.
She was preceded in death by her parents, 3 brothers, Edward Elijah, Rudolph, Louis Clayton Joyner and one sister Edna Mae Joyner. She leaves to mourn her Husband Eddie, 2 sons Steven and Anthony, 3 Granddaughters Sara, Tara, and Kandice, one grandson Darren, 6 great grandchildren, one uncle Briscoe Ransome, two sisters Clara and Shirley, one sister in law Marie, her Special Sister and Friend Mrs. Genevieve Brown.
"THANKS TO ALL WHO TOUCHED MY LIFE!!"
Especially, my niece Lisa Joyner who was like a daughter to me, who cared for all my needs when I could not care for myself.
A viewing will be held on Friday, March 23, 2018 from 9:30 AM - 10:30 AM at the Carnesale Funeral Home, 202 S. Third Street in Hammonton, where funeral services will take place Friday at 10:30 AM. Burial at convenience of the family.