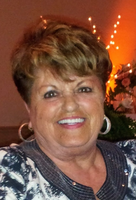 Joy Canino Cravener
Joy Canino Cravener, 74, passed away on December 15, 2017, at her home in Berkeley Springs, WV. Joy was born on February 12, 1943, in Pittman, NJ to Peter and Margaret (Horn) Canino. Joy grew up in Hammonton, NJ. She graduated from St. Joseph High School in Hammonton, NJ in 1960.
Mother, wife, and life of the party, Joy loved entertaining, decorating, cooking, and arts and crafts. She cherished spending time with family and friends and loved to tell stories with just a little embellishment! Joy's infectious personality was contagious and made everyone feel comfortable. There has never been, nor will there ever be, anyone quite so special as Joy.
Joy was preceded in death by her parents Peter and Margaret (Peggy) Canino.
Joy is survived by her husband Lloyd (Bud) Cravener of Berkeley Springs, WV; her sons Gene, (Kay) Piscitelli of Raleigh, NC , Stephen, (Camille) Piscitelli of Miami Beach, FL and stepdaughters Kelly, (Mark Fell) Hax of Laurel, MD, and Kim Champagne of Gambrills, MD; her grandchildren Sarah, Michael, Joseph, Danielle, Vincent, Jordan, Connor, Tyler, Bailey, Sydney, Melissa, and Kari; her great-grandchildren Dylan and Gracie.
A memorial service will be held at Carnesale Funeral Home, 202 S 3rd St, Hammonton, NJ 08037on March 24, 2018, at 12:30 PM. The family will be greeting friends and relatives at noon on March 24, 2018. Entombment will follow at Greenmount Cemetery. In lieu of flowers, the family requests memorial donations be made to American Cancer Society.