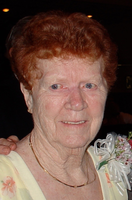 Margaret M. Tomasello
Margaret M. Tomasello (nee Doran), 97, of Hammonton went peacefully on February 18, 2018. She is survived by her husband of 72 years, Anthony, sons Anthony (Diane) and Kenneth (Liz), granddaughters Kelly (Jay) Celona and Lisa (Mike) Maitag, great-grandchildren, Mandy, Carly, Emily and Wyatt, her brother Joseph (Mary) Doran and many nieces and nephews.
A Philadelphia native, Margaret graduated from Hallahan Catholic High School, Class of 1938. During War World II she worked at General Electric building aircraft. In 1946 she married Anthony and moved to Hammonton, NJ, where she worked at Suburban Gas and Ideal Manufacturing. After retiring from Whitehall Laboratories she enjoyed spending time with her granddaughters, crocheting, needlepoint and making hook rugs.
A viewing will be held on Saturday, February 24, 2018 from 10:00 AM - 12:00 PM at St Mary of Mt. Carmel Parish Church of St. Joseph's, 226 French Street in Hammonton, where a Mass of Christian Burial will be celebrated at 12:00 PM. Burial will follow in Holy Sepulchre Cemetery in Hammonton. In lieu of flowers donations may be made to the Mt. Carmel Society, PO Box 182, Hammonton, NJ 08037. Arrangements by the Carnesale funeral Home in Hammonton, www.carnesalefuneralhome.com