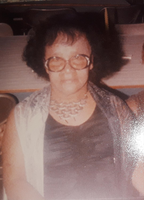 Cecilia Mangual
Cecilia (Chila) Mangual of Collings Lakes passed away on December 6, 2017 peacefully in her sleep at age 94. She was born in Aguadilla, Puerto Rico in 1923 to Genera Castro and Toribio Ortiz. She married Juan B. Mangual in 1937 with whom she had 3 children. After her husband passed away, in 1959 Chila moved with her 3 children to Hammonton, NJ. She was an independent, devoted mother who raised her children alone. She worked at William B. Kessler Clothing Company for many years until she retired at the age of 62. She was known as the "Avon Lady" who sold Avon for many years.
Cecilia was predeceased by her parents Genera Castro and Toribio Ortiz; husband Juan Mangual, her siblings Andres, Iluminada, Andrea; her grandson Jerry Reynolds, Jr.; and son in law Jerry Reynolds.
She is survived by her children, Wilma Reynolds, Zaida Morales (Francisco) and Juan B. Mangual, Jr.; grandchildren, Maritza Johnson (Yonue), Cynthia Rodgers (Anthony), Evelyn Morales, Francisco Morales (Erika), Alexis Morales (Jessiana), Nancy Torres (Eddie) and Johnny Mangual; 16 great grandchildren, and many nieces and nephews. A viewing will be held on Saturday, December 9, 2017 from 11:00 AM - 1:00 PM at the Carnesale Funeral Home, 202 S. Third Street in Hammonton, where funeral services will be held at 1:00 PM. Burial will follow at Greenmount Cemetery in Hammonton.