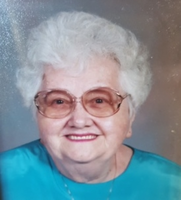 Margaret Elizabeth Jones
Margaret "Peggy" E. ( Huff) Jones, 88, of Vineland passed away peacefully on October 27th, 2017 after a lengthy illness.
She was born October 26th, 1929 in Camden. Peggy was raised in Buena Vista Township on her parents Poultry Farm. She was pre-deceased by her father, Warren C. Huff, her birth mother, Lola Mae (Stringfield) Huff whom passed when Peggy was a young child, she was raised by her loving Mom Annie L. (Dilks) Huff.
At a young age, she helped out on the farm and at the age of 9, she worked for Chamberlains Store in Newtonville. She then later graduated from Vineland High School.
In 1951, she married, the love of her life, a New York City boy named Walter F. Jones. Together they raised 3 daughters. Peggy drove a school bus for Buena Vista Township, then later worked for the Guarancini Family at Vineland Shoprite. She was a member of Piney Hollow Church, where she was the organist. She received "The Citizen of the Year" Award in 1967 for Buena Vista Township. Peggy was also a member of the Daughters of the American Revolution, where she achieved the rank of State Counselor.
Peggy was deeply loved and is survived by her daughters, Barb (Bill) Burak, Diana (Tim) Nichols and Sharon Flem; sister Nell Woulfe, brother Howard Huff, sister in law Hildegard Huff; her grandchildren: Jenn Perez, Mike Muzzarelli, Nicole Trull, Timothy Nichols Jr., Rachael, Melissa and Robert Flem, Stephanie Aldover; 9 great grandchildren and a great, great grandson on the way, and many nieces and nephews. She was predeceased by her husband of 61 years, Walter in 2012, infant son Walter F. Jones Jr., brothers Warren (Buddy) Huff and John Huff.
Memorial services will be held on Wednesday, November 1st at 10:30 am in Piney Hollow United Methodist Church, Piney Hollow and Dutch Mill Roads, 3094 Dutch Mill Rd, Franklinville, where a visitation will be held from 10:00 until 10:30 am. Burial will follow in the Church Cemetery. In lieu of flowers, donations may be made to Journey Hospice, 6712 Washington Ave., Suite 201, Egg Harbor Township, NJ 08234; American Diabetes Association, P.O. Box 15829, Arlington, VA 22215; Piney Hollow United Methodist Church c/o Joseph Jaggers, 1076 S. Blue Bell Rd., Newfield NJ 08344. Arrangements by the Carnesale Funeral Home, Hammonton, NJ. (www.carnesalefuneralhome.com)