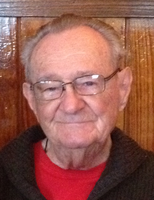 William F. Friel, III
William F. Friel III, 95, of Ormond Beach, FL and formerly of Hammonton, NJ passed away peacefully on Saturday, May 20, 2017 at home. Born in Lancaster, PA he lived for many years in Hammonton, NJ before moving to Florida. Mr. Friel was a proud graduate of Villanova University. He served honorably in the U.S. Army Air Corps during World War II, achieving the rank of Sergeant. Mr. Friel worked as a Florida Residential Contractor and was President of Tam-O-Shanter Development Corporation located in North Lauderdale. He was a longtime friend and employee of Lewis Colasurdo, and he had worked many years at Packo-Himco in Hammonton. He was a fourth degree Knight in the Knights of Columbus Pallotti Council No. 3471 in Hammonton.
He was predeceased by his wife, Marie T. Friel. He is survived by his son, William F. Friel IV (Lynda); his daughter, Donna Marie Friel; three grandchildren, Kevin James Friel, Karen Lynn Tigro (Dan Marro), Amanda Beth Carl, his great grandchildren, Rachel and Justin Friel and their mother Monica , Ashley, Francesca, and Alexis Tigro, and their father Alex, and Joseph and Makalya McLaughlin.
A viewing will be held on Tuesday, May 30, 2017 from 6:30 PM - 9:00 PM at the Carnesale Funeral Home, 202 S. Third Street in Hammonton. There will be no viewing on Wednesday morning. A Mass of Christian Burial will be celebrated on Wednesday, May 31, 2017 at 10:00 AM at St. Mary of Mt. Carmel Parish Church of St. Joseph's, 226 French Street in Hammonton. Burial will follow at 12:30 PM at Holy Cross Cemetery, 626 Baily Road, Yeadon, PA. In lieu of flowers donations may be made to: Halifax Health Hospice Care Center, 3800 Woodbriar Trail, Port Orange, FL 33127. For information or to post condolences go to www.carnesalefuneralhome.com